San Pedro, Belize
Posted on 2009-06-01 00:00:00 by Richard Hartogs
North America | Belize – Home to the largest Mayan population and many Mayan Ruins, 13 of which are accessible to tourists. Also home to the second largest barrier reef system in the world.
All international flights come into Belize City International Airport (BZE). From there, there are two Belizean Airlines that fly all over the country to airstrips. Tropic Air http://www.tropicair.com/ and Maya Island Air. They fly Cessna Caravan planes and they are small. We had no trouble on all six of our Tropic Air flights, and the views were spectacular.
While layed over at BZE, we had beers and hotdogs at Jet Bar, the only place to eat in the terminal. Jet is a 4'5 owner of the place and loves selling his hotdogs and claims the coldest beer and freshest beer in Belize (true, the Belikin Brewery is on the other side of the runway) and best rum punch (didn't try it). It is a nice welcome to Belize.
San Pedro
San Pedro is the only town on Ambergris Caye, the most northern Caye of Belize. San Pedro is known for two things; a wild nightlife and amazing water activities. I will get into both throughout this blog.
Ambergris Caye is 10 miles from mainland belize as the crow flies. It is a 15 minute Tropic Air flight or a 45 minute-1 hour ferry ride. The short plane ride is filled with spectacular views of the shallow waters between the island and mainland. I heard from our neighbors in our hotel that the ferry ride was bumpy and uncomfortable.
Hotels and Lodging
I stayed at the Mayan Princess Hotel on the beach in the center of all the action. www.mayanprincesshotel.com the picture on their website really will be your view from your room. The queen sized bed was very comfortable, the two bunk beds in a side room were solid, and the pull out sofa mattress was better than average. We had a mini-kitchen/bar area, good a/c, small tv we never used, fans and full bathroom where the sink was separate from the washroom, a plus with four people. There was a computer with free internet in the lobby, a weak but free continental breakfast, and a book exchange. I would stay there again for sure. Here is our view from the room:
Spindrift, San Pedro Holiday Hotel, Corona Del Mar, and many more. There are also lavish resorts to the south and north of the center of town. Finding a room is not a problem.
Nightlife
Many many options, from beach hut, to disco, to sports bar, to upscale. Just next to Mayan Princess is Fido's (pronounced Feedhoughs). Live music is played nightly. One entrance is on the beach, the other is on the main street (Barrier Reef Road). The dance floor in front of the stage is big enough for a lot of drunk people, the bar has ample room to squeeze in and catch the bar tender, and there are plenty of tables with table service. There is a bottle of Viper Rum behind the bar for the daring. I took a shot of it, and lived, barely…Fido's is also a restaurant, but I didn't try the food.
Along the beach to the south is the Pier Lounge (underneath the Spindrift hotel. It is not a lounge. It is famous for having the weekly (every Wednesdays night Chicken Drop. A chicken is place on a board with squares, and poops…who ever bet on that number has to clean the shit up before collecting the money. On off nights it is a good place to start. Read about it here http://ambergriscaye.com/spindrift/chicken.html
Between Fido's and Pier Lounge is Big Daddy's, a disco on the inside and beach front bar on the outside. Behind the Pier Lounge on the main street is The Stadium, a small sport bar. They have satellite tvs and will turn anything on you want. They also have massive beer fountains you can get.
Wet Willy's Lizard lounge is at the end of a pier north of center San Pedro. Wednesday is Lady's night and Friday they have a beer chugging competition. A nice spot.
The Tackle Box is also at the end of the pier and a decent bar. Jaguar Temple is on the Main Street across from Central Park. You can't miss it, it has a jaguar's mouth as a door. Friday and Saturday nights are Lady's nights, the disco attracts mostly locals.
Across from the Mayan Princess on the main street is an outdoor coffee bar called Island Perks. It has very good coffee and coffee drinks. From 4pm-6pm, they have happy hour, 2-1 rum drinks.
Hangover Sports bar is inside San Pedro Holiday Hotel (the island's first hotel) It has a nice outdoor deck and a decent bar. The doors to the bathrooms are cool, and so is the art work inside. Also, if you need to drop a deuce, I recommend this place, as bathroom has a lock and is spacious and clean. Betty was our bartender there and she was friendly, and gave me a great restaurant recommendation.
Dining
There are tons of options for food in San Pedro for any budget. There are super markets all over of varying sizes, some meat shops, and fruit stands as well. Any budget will do.
Some vendors grill chicken on the sidewalk and sell platters to go for as little as 7$BZE ($3.50usd). There are pupusa vendors, sub shops, pizza by the slice joints and others.
For late night, in the Central Park, there are about six vendors that sell cheap tacos, hotdogs, burritos, and hamburgers for the late night drunk crowd. I had two tacos that were actually quite tasty for $2bze each. I also had a hotdog for $3bze. It was one of the most, um, interesting hotdogs, it had a normal dog and bug, then it was topped with taco meat and onions, salsa, hot sauce, grated cheese, ketchup, mustard, AND mayonnaise! I think all the flavors canceled each other out because it ended up being bland.
The restaurants I am listing are all ones that I ate at.
Jambel Jerk Pit on the main street across from the Stadium sports bar is a Jamaican Jerk joint. Run by Jamaicans, this place is the real deal. The jerk pork and chicken were great and the serving more than ample.
We had lunch at a Cuban café the day we got there called El Pilon. It is a good breakfast and lunch spot. I had a cheeseburger that was real good, and others had pressed sandwiches. The large cappuccino I had was very good. The owner was a nice Cuban and he sold Cohibas that he told me he brought over from Cuba a couple weeks earlier. I bought a couple and they were excellent, they were really well kept.
I had lunch on my own one day at Wild Mango's. It is known for its lobster ceviche, but lobster was not in season when I was there. I had a nice soup and a really good fried snapper sandwich. I also gulped down the best smoothie I have ever had. The prices are above average for Belize, but the location right on the beach is great.
A guide we had recommended we go to Micky's on Middle Street closer to the air strip (a street that runs parallel to Barrier Reef Road). The food was ok.
My favorite place that I ate at was Caramba on Middle Street. Betty from the Hangover Sports bar told me to go and ask for Edwin; by doing so, my table received free rum punches and ceviche…a great way to start the meal. I had the Tour Guide Fish-filleted snapper wrapped in foil with onions, peppers and butter and grilled. We say fisherman make this on the beach). We had the fish fingers for an appetizer, and they were great.
Activities
There are plenty of activities to get into from San Pedro. The main thing is heading on to, or under the Caribbean Sea. Most tour companies will run a ½ day snorkerl tour to Hol Chan Reserve and Shark Ray Alley. Since both stops are about a 10 minute boat ride from San Pedro, most of the trip is snorkeling. Also, the tour operators will pick you up on a pier closest to your hotel!
Hol Chan reserve is fantastic. The coral reefs are amazing, and the wild life is incredible. Some highlights: Green Moray Eal, sting rays, nurse sharks, groupers, jacks, snappers, parrot fish, turtles, and many colorful fish.
Shark Ray Alley is really a nothing special as far as coral goes, but it is ripe with large sting rays and nurse sharks. I held a ray and pet the sharks, way cool experiences. Our guide was amazing, read below.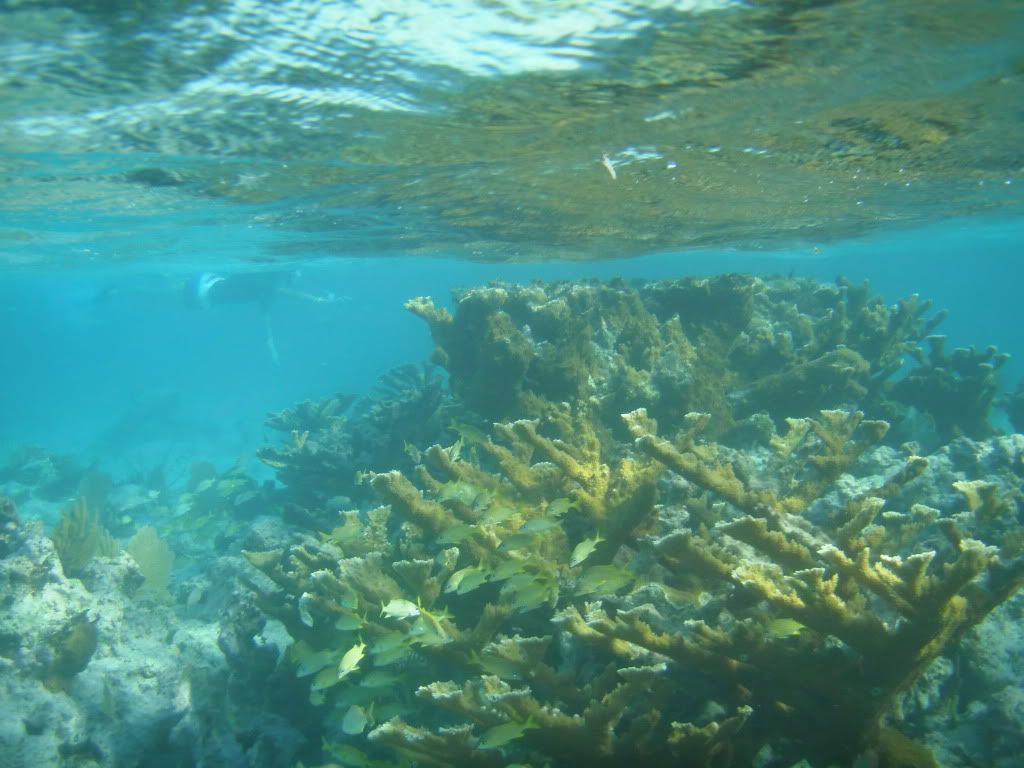 Captain Morgan's resort is a fancy resort 4 miles north of San Pedro, it is famous for hosting the reality TV show Temptation Island. They have a kiosk in Central Park and I found one guy, James Brown to be very friendly and kind. So I had him set me up with the Hol Chan and Shark Ray Alley tour. And he came through. We went with Lil' Alfonse (Alfonso is his real name).
Alfonso is very passionate about what he shows you. First he makes sure your equipment is working perfectly, and fog free, whether you are using your own gear, or using his. He loves what he does, guiding tourists into aquarium like atmospheres, and it shows. I liked his tour so much, I booked him for the next day to snorkel Mexico Rocks and Tres Cocos. If you go to San Pedro and do not try to book with him, then you are doing yourself a disservice. Even the nurse sharks and rays trust him! Just watch him play with them in their habitat. He has given Samantha Brown from the Travel Channel a tour.
SCUBA is huge from San Pedro. Many qualified operators offer tours all over the cayes. The big trip costs about $200usd to the Great Blue Hole. Some tell me that it is not the best place to snorkel, but don't take my word. Do proper research. There are dives to be had for all skill levels.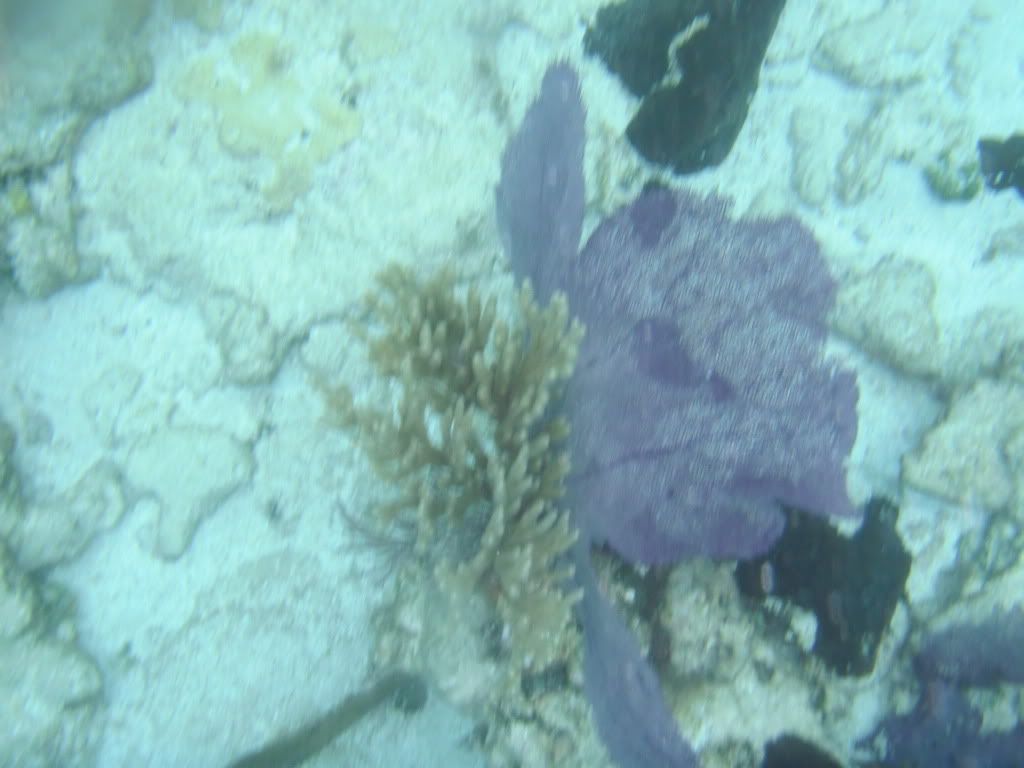 Fishing of course is huge. I saw fisherman come back with large Red Snappers, barracudas, and grouper.
My buddy rented a sea kayak and had a good time.
On land, you can rent bicycles and golf carts, which are all over the place on Ambergris Caye. I though the golf cart would be cheesy until my friend showed up with one he rented. We had a blast driving all over San Pedro and exploring the island to the north and south. If you have time, rent one and have fun.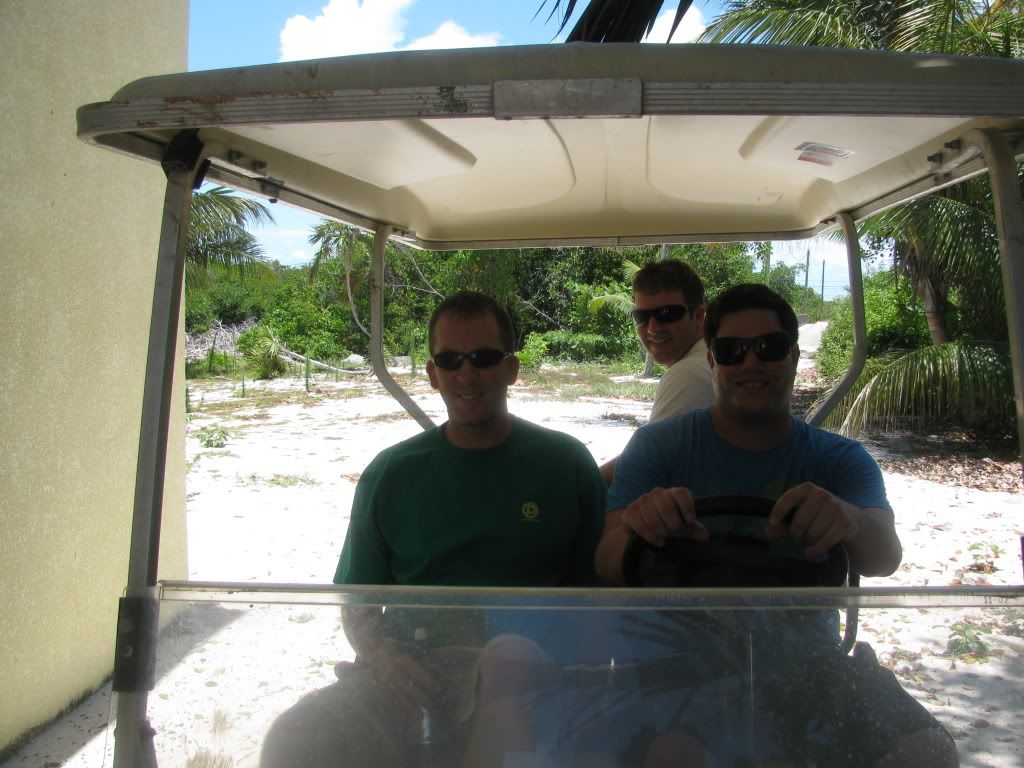 You can also book many tours on the main land, you either take a boat or a plane to the tour operators there, usually the prices are included. Tours you can do are Mayan Ruins, cave tubing, exploring Belize Zoo, or seeing manatees in Belize River. I saw some from the air.
Some annoyances in San Pedro: Like most tourist destinations, there are always people with an angle. Lots of people trying to sell us drugs, buy random souvenirs, or just trying to get us to buy them beer or give them money. I think because of the recession there are fewer tourists, so a lot more attention was paid to us. Also, there are prostitutes that I would advise to steer clear of. They came up to us and asked us to buy them drinks and other stuff. Belize has a very high HIV/AIDS rate, and these prostitutes looked ghastly. If mongering is your thing, keep your privates in your pants. Usually a simple "no" got them away, but not the real desperate ones. The above didn't ruin our trip by any means, but it was there.
I highly recommend going to Belize if you like gorgeous beaches, snorkeling, rum, beer, fishing, Mayan Ruins, breathing.
©2008 StrayCompass.com and Agile H Productions, LLC | Site Map