The Galapagos Islands: The wife and I went there for our honeymoon and we had an amazing trip. After being told by some that it's not an "ideal" honeymoon destination, I can honestly say that it was perfect.
The Galapagos Islands are located 600 miles off the coast of Ecuador and consist of 13 islands and numerous islets. With a population of 25,000 spread over 5 of the islands you really do feel like you are away from it all when you are here. 97% of the Galapagos are uninhabited and under the authorization of the national park system and are closely monitored under very strict visitation guidelines. Each island had a different landscape, different set of wildlife and each one is fascinating in its own right. Put them all together you have one of the most unbelievable areas in the world. In this trip report I will first go over the basics of the Galapagos with some of the ground rules associated with it before talking about the boat, and finally the individual islands themselves. For more on cuisine stayed tuned for my follow up post on Guayaquil, the Ruta Del Sol, and some general background about Ecuador.
Getting There:
Getting to the Galapagos is fairly easy. There are flights from Mainland Ecuador several times a day. Two airlines fly there, TAME, and AeroGal. Both have flights that originate in Quito, stop in Guayaquil, and either fly to the island of Baltra or San Cristobal. Round trip will set you back about $350 or so. You will also pay $10 inspection fee at your departing airport. If you are doing a cruise you will board your ship/boat in one of those two locations. If you are going to do your own tour then it is advisable to fly into Baltra, and make your way to Puerto Ayora and set base there. Upon entry to the Galapagos you will go through what appears to be immigration control, and pay the $100 park fee.
Discuss the Galapagos on our Travel Forum.
When booking your trips you can deal with the cruise ship companies or a reputable travel agent. We booked through Douglas Reyna of Global Tours, http://www.globaltour.com.ec/English/IndexEN.html. Douglas is a great travel agent, though he has his own style of work. Bear with him, he gets the job done and knows what he is doing. Global Tours is the official travel agency of American Express in Ecuador (as Douglas will tell you). When the cruise ship we were originally booked on was no longer available and they wanted to put us on a ship that was unacceptable, Douglas made sure we were taken care of: "My target is your honeymoon, I am trying to make it spectacular," and he did.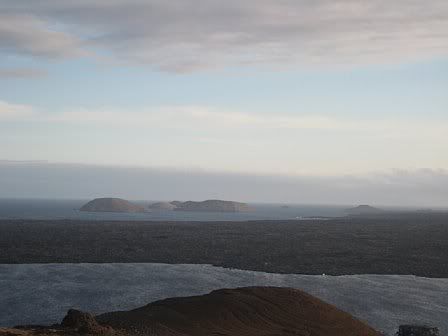 View from Isla Bartolme
Background:
The Galapagos Islands are Hawaiian-style volcanic islands that are relatively young I believe 1-5 million years old. As the Western most islands are younger and taller with the eastern/southern islands older and flatter, it is truly amazing to see the difference in landscape between the islands that are so close together. That said the true star of the Galapagos Islands is the wildlife, both on the land and in the water. With numerous endemic species, you are guaranteed to see something you have never seen before. From the famous Blue Footed Booby, to its cousin the Red Footed Booby, giant tortoises, marine iguanas, lizards, sea lions on almost every island, whales, sea turtles, waved albatross, hawks, rays, you will be blown away by the amount of animals you see.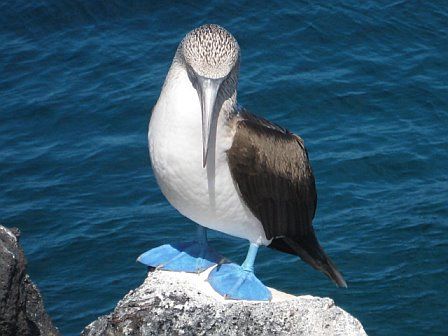 Blue Footed Boobies in the Galapagos
As far as I am concerned the best way to see the Galapagos Islands is by cruise, preferably one that is at least a week in duration. By doing a cruise you will get to see more of the islands and experience more of what the Galapagos has to offer. Prices will vary depending on the class of ship you book, and believe me, from the looks of things you get what you pay for. Do not think of the large Carnival or Royal Caribbean cruise lines when thinking about the Galapagos. Most of the boats have a capacity for 16 passengers, with a few larger ships, and about 4-5 ships that house up to 90-100 passengers. The cruise ships are heavily regulated by the National Park service. There are 86 boats in operation and each itinerary is set by the Park service. So do your research and find out what you want to see then find the appropriate ship for your tastes. Some of these are dedicated dive boats that go to the more northern islands. While the larger boats you will feel less rocking, there are many disadvantages to a larger boat. Smaller boats you will have a more personalized tour, spend less time waiting for the pangas, and have more attention, if desired on the boat. Also there are a couple of islands they do not let the largest of ships go to.
The islands are in pristine condition and there are many rules in place to make sure they stay that way. Efforts include limiting the number of people on each island to no more than 240 at one time, on some of them. You must stay within the marked boundaries that are laid out; you can't bring any food or go to the bathroom on the islands. You must also clean your shoes of any sand and dirt when you leave the islands as they don't want you bringing soil from one island to another. As far as the animals go, you are not allowed to touch them or feed them no matter how close they get to you. If you touch a sea lion pup, you run the risk of the mother abandoning the pup which will lead to its certain death.
M/V Evolution:
One thing about cruises in the Galapagos is that it is not uncommon to book a trip and end up on a different ship, often the changes will take place last minute. While annoying, it is not always a bad thing. Make sure you give your self some flexibility and read the fine print in your contract. We booked with the Queen of the Galapagos and it was in dry dock and they tried to put us on less favorable ships. Thankfully we went during the low season and were able to get on the M/V Evolution, which was run by QUASAR. This turned out to be a blessing in disguise for us. The Evolution is a 192ft., 32 passenger luxury ship. We were fortunate to only have 10 other passengers which meant a lot of personal attention, and lots of free space on the ship. The other 10 passengers were enthusiastic and fun to be around. As you spend a lot of time hiking, snorkeling, and on the pangas with the other passengers, it helps to have a good group with you.

The M/V Evolution at Tower (Genovesa Island)
The Evolution was a very attractive boat with lots of public lounge areas, basic but nice rooms, comfortable beds and good food. The service provided was top notch, with a very good cook, pastry chef, skilled wait staff and an excellent barman. The food is not gourmet like a typical cruise, rather it is a little more basic but very good. For example at dinner soup would served by a waiter, then the main dinner is buffet style. Choice could include a fish, and chicken or steak, in various tasty sauces, then a starch of pasta, rice, or potatoes. There is also fresh salad and cheese bar so there is more than enough food. One night we did have lobster and steak which was very good. Lunches included a typical Ecuadorian meal with ceviche, plantains, meat, and rice, while another was a Mexican meal with build-your-own burrito and chicken enchiladas. Vegetarian options were available but we are not sure if our travel agent provided that information.
This trip is for people with an active to semi-active lifestyle and is this certainly is not a relaxing beach vacation. The typical routine is as follows. Wake up at 6:45, with breakfast at 7:00. 8:00AM panga from the boat to the island for a 2-3 hour hike exploring what that island has to offer. Then an 11AM snorkel for about an hour followed by a 12:30 lunch, a brief siesta and more snorkeling before an afternoon hike to a different part of the island or a new island all together. Briefing at 7:00PM about the next day's adventure, followed by dinner at 7:30. We were lucky if we weren't in bed by 9:30. After the morning hike, as we got back on the boat the crew had fresh-squeezed tropical fruit juices and snacks for us. In the evening following our afternoon activities we were given a new juice with hors d'ouevres, including sashimi and sushi. Sitting on the outside bar areas drinking a nice cocktail or beer during sunset was my favorite most relaxing part of the day. One evening we were lucky enough to see whales while sipping our afternoon drinks.
The Islands (Finally):
On to the Islands: I will basically do a brief overview of the islands that I went to. Keep in mind that we are on each part of the island for up to three hours, and there is a lot to take in. The islands usually have a couple of names (Spanish and English) and I will try to provide them if I can. I will also go in order that I visited the islands.
San Cristobal:
We landed at on the Island of San Cristobal in the town of Puerto Baquerizo Moreno, this is second most populated island in the Galapagos and the only one that has fresh water on it. The airport is located right in town and was very easy to navigate. Upon arriving I was fighting a bout of food poisoning and death, so the 10 minute drive to the dock is a blur of me moaning and longing for any place to lie down. On the dock there were numerous sea lions to greet us and that is when it hits you, "Wow, I am in the Galapagos". After shooing them off the boat slip and getting on the panga, we were taken to our boat. There was an excursion that afternoon, however, I was stuck in bed drinking pedialite. From my understanding, we were taken to a beach (Cerro de brujo – Wizard Hill) with a sea lion colony on it.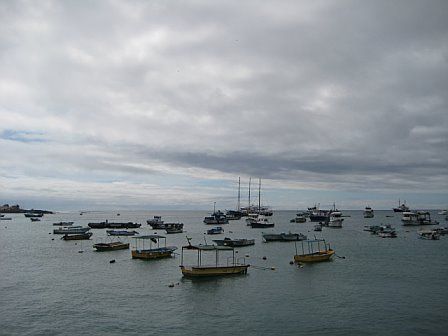 San Cristobal, Puerto Baquerizo Moreno
We also departed from San Cristobal and spent the last morning of our trip in Puerto Baquerizo Moreno, which is a nice town that has a somewhat new malecon (boardwalk) with lots of decent t-shirt shops and restaurants. We had an early lunch at Restaurante Miconea, which is a moderately priced restaurant, very tasty, with a great view of the harbor. I had a tuna with seafood sauce and it was delicious and a fair price. As the water is so clear, the highlight was watching sea lions playing in the water and sea turtles swim by. One site that we were taken to for a self guided tour was the Interpretation Center, describing the human and natural history of the Galapagos Islands, as well as conservation efforts. This was paid for by the Spanish government as a way to say sorry for behaving like schmucks over the years. It was a decent site, but after a week on the islands, it was unimpressive.
Espanola (Hood) Island: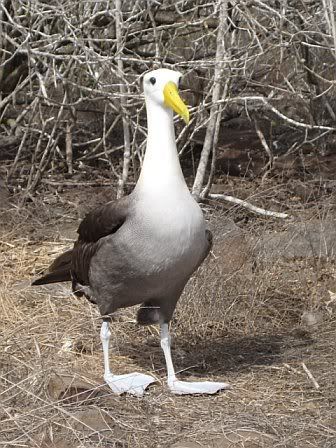 Waved Albatross on Espanola
This was our first full day on the boat and we were woken up at 6:30. As there were other boats scheduled to arrive on the islands, we tried to beat them to shore with a dry landing at Punta Suarez. Espanola is the southernmost islands in the Galapagos and is also the oldest island of the group. Since it is so isolated from the other islands there are a lot of endemic species. Upon arriving we were greeted by a colony of sea lions and a pile of marine iguanas. We saw many types of marine iguanas through out the trip but these were the only ones with red on them. This was the longest hike we did all week with very rocky terrain. On the islands there were Blue Footed Boobies, Nazca (masked) Boobies, the Galapagos Hawk, lizards, and other smaller birds. The highlight was the Waved Albatross, this is the only island where you can see them and only from April-December. These are large birds that mate for life. Known for their gliding ability they are very not skilled at take offs or landings. The pinnacle of the hike was sitting on the cliff right by their "airport" where the Waved Albatross will hurl its self off of the cliff and catch the updraft and start gliding. This was also a peaceful place to sit down and take in the view. 

Marine Iguana
Later that afternoon we had our first snorkel in Gardner Bay, there was a tiny island off the beach which nice rock formations and lots of fish. The highlight here was snorkeling with sea lions. As clumsy and funny looking as they are on land they are fast, powerful, yet playful swimmers. Seeing them whiz by you, investigating, is really something special. We saw some rays and other fish. After changing back on the boat we were taking to the sandy beach at Gardner Bay. This was a wet landing and basically a beach afternoon. Try to imagine a semi-crowded beach with children playing, and groups sunbathing together; now replace the people with sea lions and that is what you have. Just walking up and down the beach watching the scene unfold was truly unique and you will get an appreciation for how close you can get to the animals. During birthing season it is possible to witness the birth of the sea lion pups.
Isla Santa Cruz:
Before I begin, I have to admit that this was the most boring day of the cruise, it was the only day that felt a little forced. So read this section and find out how you can avoid the same fate we had. This was the only day it really rained, so that may have influenced my mood. Santa Cruz is the most populated island in the Galapagos with about 16,000 inhabitants, most of them in Puerto Ayora, home to the Charles Darwin Research Center, and lots of big grumpy looking tortoises. This is also the most important port city in the island chain. If you wanted to do a land based tour this is where your base of operations would be. With a few hotels, a handful of restaurants, and most of the amenities you would need. This is also a central island and you can get to several near by islands in a matter of hours. This is the ideal place for those not wanting to spend 7 nights on a boat.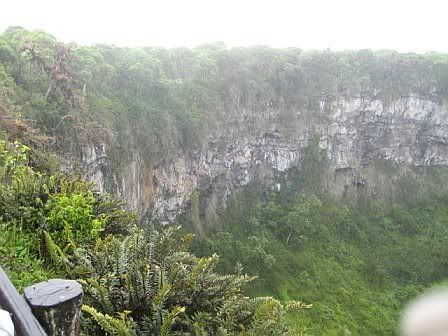 >
One of the craters of Los Gemelos on Santa Cruz
Our day began with a bus ride into the highlands to see the two craters known as the Gemelos (Spanish for twins). Two craters created by some geological event, I was already dozing by this time. They are impressive looking and looks like something out of a James Bond movie. Do some legwork if you are interested to see how they were formed. Now these were neat to see but here is where things went down hill. We went on a slow hike searching for finches. I am no birder so forgive my primitive description. Finches are little birds that are on most of the islands and of different colors. They are the birds that Charles Darwin (the original Chuck D) watched to help form his theory of evolution. If you look at their beaks carefully you will see that each type of finch has a different beak geared to how it eats. Really though, this was a boring walk as the guide would spot a bird and only 2-3 out of 12 of us could actually see the damn thing.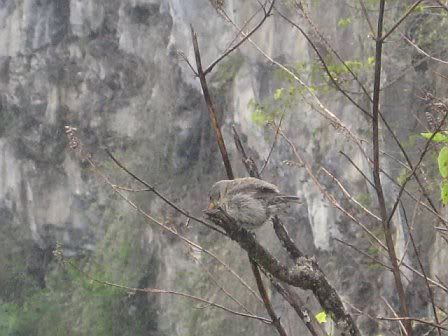 some kind of Finch
The next stop was a private farm where we could see giant tortoises in the wild. Had it not been raining, this probably would have been a better part of the day. After about a muddy walk we encountered several of these tortoises in the wild. (Sounds kind of funny to think of the slowest animal you can imagine as a wild animal.) What the guide books don't tell you is these turtles lay giant crap; seriously, it's like a foothill of poop. Watch out for these, they look like mud with hay mixed it (too much information? You'll thank me!). After the hike we stopped at a wood shack for some tea and coffee. Then we took a bus to a place where there was a BBQ set up, but here's the kicker. This was on a farm too, with more of the same giant tortoises, and we didn't have to walk in the rain to see them. I don't mean to sound lazy but if they cut out the first part, we could have done a different activity.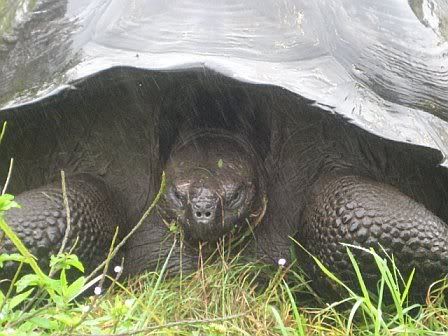 Giant Tortoise (notice the rain)
After lunch and everyone falling asleep on the bus we arrived at the much anticipated Charles Darwin Research Center. This is where scientist do good work to research, and save many of the endemic species on the Galapagos Islands, including the 11 subspecies of giant tortoises that used to be so numerous on the islands. Here you will learn about the birthing and fertilization of the eggs. How introduced species have destroyed some of the species and what is being done to reverse this trend. That being said it is not the most exciting tour, especially after seeing several wild tortoises. The highlight of this tour is seeing the famous Lonesome George. George was a Turtle from the island of Pinta to the north. He is the last of a kind and efforts are being made for him to reproduce. He is mating with females from a close sub-species then he will then mate with his daughters and grand daughters etc. until he is dead to get as close to his species as possible. The one problem is there were not elder Pinta Tortoises to teach poor George about the birds and the bees and apparently he has had years and years of trouble figuring out how his bits and pieces work. Though good news is after 20 years of trying he should be a proud papa in about 60 days. 

Lonesome George
The rest of the day was spent looking for a new digital camera, we found one, and shopping for souvenirs. The one good thing about this island is that this is one of two places where you can get cash, which you will need for tips, and to buy souvenirs. Had we not been running around looking for a camera I probably would have had time to scope out some bars and restaurants, there seemed to be a good amount, enough to keep you entertained, at least for a few weeks. All in all it was a slow boring day. We probably could have done all if this in a half day then have a free half-day to our selves.
James Island, or San SalvadorIsland, or Santiago Island (see I told you some of these had three names):

Collapsed Lava Tunnel
After the slow day of Santa Cruz, this is the part of the trip where things really started to pick up the pace and we realized what an amazing place the Galapagos Islands really are. Santiago is an uninhabited island, though there used to be a salt mine at Puerto Egas, where we would spend the morning. A two mile hike hugging the rugged coast would reveal many types of animals, including the fur sea lion, (smaller with thicker fur than the more common California-type sea lion), different marine iguanas, more blue footed boobies, the Galapagos hawk, and other animals. Charles Darwin spent 9 days on this island, by far, the most time he spent on any one island.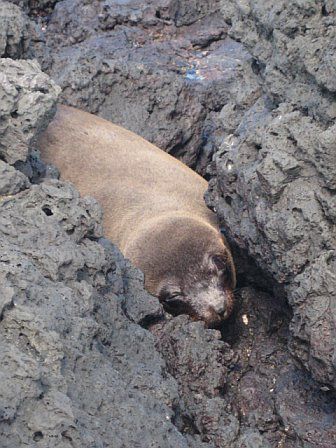 Fur Sea Lion
What made this hike different was walking on the lava flows then ending the morning with a cool snorkel off the sandy beach. Towards the end of the hike we came across a caved-in lava tunnel that is now part of the coast line, creating a beautiful backdrop and tide pools filled with wild life. One such tide pool had some washed-up tuna, which was to be breakfast for a bull sea lion. However, nearby pelicans and frigate birds were swooping in trying to get a piece of the action. A really cool glimpse at a day in the life of these animals and their dining habits. 

Galapagos Hawk, keeping an eye on you.
For the snorkel we simply walked in from the beach and started to snorkel. There was a little current and we were told to keep out of one area where a bull sea lion was patroling and making noise anytime someone encroached on his area. He was not to be trifled with. Swimming one way we passed over a series of rock reef with many forms of wildlife including sea turtles, rays, starfish, and other tropic fish. Swimming the other way was less exciting but we did see an array of starfish and some seaweed.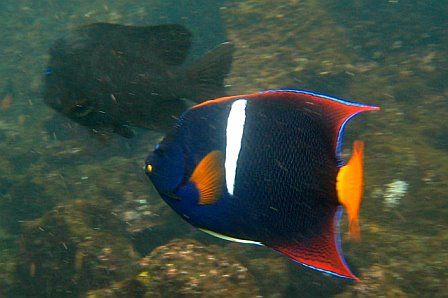 Not sure what kind of fish this is but it sure is purty.
After getting back aboard the Evolution we picked up anchor for a three-hour sail around the island to some islets. The sail was hugging the coast and the beautiful scenery. After an hour we passed through Buccaneer's Cove. Apparently some pirates found this place and stashed their loot and set up camp. (Not the Somali type but old school, rum drinking pirates). This proved to be a relaxing afternoon, with birds following us and landing on the boat, a beautiful untouched coastline a perfect sea breeze. All in all this as a nice a morning and one of the better hikes. There was more to come but this was a highlight so far.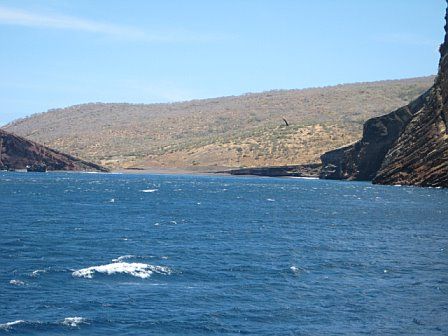 Buccaneer's Cove, maybe there is some rum buried around here?
Bartolome Island (Pinnacle Rock):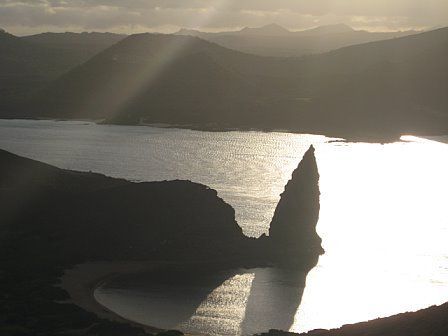 Pinnacle Rock on Barolome Island
If there is one part of the trip that really stood out as being the single best part, this would be it. Bartolome is a tiny island or islet, with unbelievable scenery and the best snorkeling I have ever seen. We pulled up at about two in the afternoon and went snorkeling via the panga. At first we were dropped off by a beach in shallow water and were told not to touch the bottom. The first part had hundreds and hundreds of starfish ranging in colors from orange, to yellow and brown. These were big suckers, not like those small thin things you find at the local sea shell shops. After about 15 minutes I was asked by another guy on the boat if I wanted to see some sharks. Why the hell not, so I followed him over by the coast to an underwater cave where there were 3-4 white tip reef sharks. This was amazing. Not to worry, they are docile, but they look impressive. I would say they were about 6-8 feet in length. After the sharks, I started to spot lots of large rays, sea turtles, and countless fish.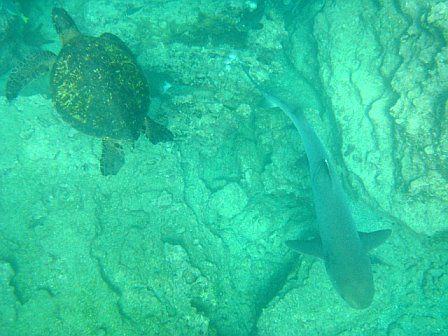 Turtle and Shark, Photo by Antonia
I pulled my head above water and standing on top of the cave where the sharks were was a pair of the Galapagos penguins. Now, I know what you are thinking, isn't it a bit warm for there to be penguins in the Galapagos? Apparently not. These are some of the smaller subspecies of penguins, and really just aren't natural. The penguins are about the clumsiest creatures on land you can imagine. I captured them on video and will try to post the pair diving in the water. The first penguin had some difficulty but managed to dive somewhat gracefully in the water. The second penguin basically tumbled into the water. Once in the water, these little buggers can fly and are quite graceful.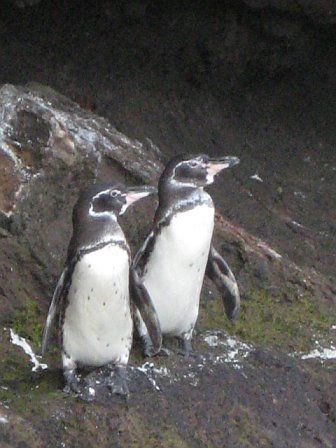 Penguins ain't natural
The best part of the snorkel was by Pinnacle Rock, a large rock sticking straight up looking like a sail of a boat. Around the base and underwater are beautiful rock formations that you can swim in and around. With countless fish hugging the walls, the odd ray swimming by, this made for a surreal experience. Imagine Super Mario Brothers video game where our old friend Mario is swimming under water, this is what I imagine it would be like. I was truly wowed by the snorkel experience and this is one of the lasting memories I have of this trip. I will say that when snorkeling in a group, it always enhances the experience to have the others point stuff out and vice versa. I would not have seen the sharks had the one fellow not alerted me to this. At first he didn't know what kind of sharks they were and thought by bringing another bloke along would lessen his risk of being on CNN. But still I was able to see more animals because of the helpfulness of the others in the water and camaraderie was formed. 

White Tip Reef Shark by Pinnacle Rock
After drying off on boat we did a "power hike" up the 368 steps to the summit of Bartolome Island. We had to race to the top before the sun set. The terrain looks like a different planet. Basically it is volcanic ash with cactus-like plants sticking out. Once on top we were able to see many of the islands and islet that comprise of the Galapagos Islands. As Bartolome is one of the central islands, the views from up top are beautiful, and often what you see on postcards, you can see many of the other islands on a clear day. Finally back on board we had our first spectacular sunset while sipping on cocktails on the top deck of the boat. This was a truly a special day in the Galapagos and one that I will always remember. 

Mars? No, the climb to the summit of Bartolome
Another of the surreal things that you will probably experience is the wild life getting in your path. For example you may see some sea lions have taken over the exact spot that your panga is supposed to pick you up at. This can be a problem as some of the islands have limited landing spots and you are not allowed to touch the animals. Eventually they will move, but sometimes they can be stubborn. See the picture below? The sea lion laughed at us for a solid 5 minutes while we were trying to shoo him off the perch so our panga could pick us up. 

Well, it's his home, we are just visitors, respect the locals
Genovesa Island (or Tower Island):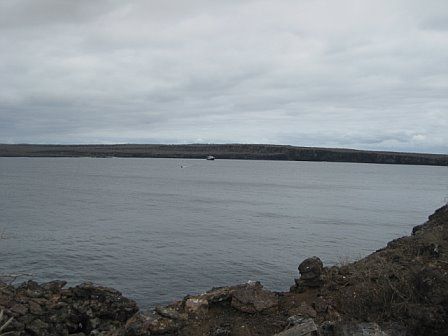 Darwin Bay on Tower Island or Genovesa
Genovesa is one of the northernmost islands in the Galapagos Islands, situated north of the equator. Many of the tour boats do not venture here for a variety of reasons. The park service does not let the larger boats (i.e. National Geographic boats) to Genovesa as they restrict the number of people on this island. Also the smaller boats rarely get here due to the distance. As we were on a medium sized boat we were lucky to make it here, and this began a two day stretch where we saw no other boats. Genovesa is the remnants of an ancient volcano with the cone "caldera" well below water, forming Darwin Bay. This is a mile in diameter and where we would spend the entire day anchored. With a beach at the center and cliffs lining the inner ring this made for a spectacular setting, albeit a little windy and cloudy during the morning.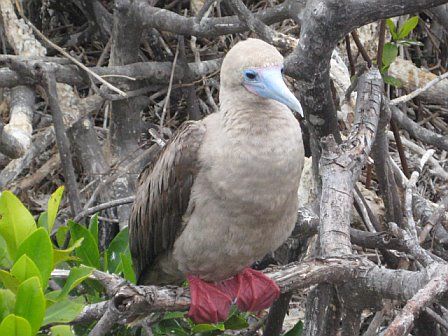 Red Footed Booby on Genovesa
Our first stop in the morning was a panga ride to Prince Phillips Steps, which is along the eastern side of Darwin Bay. As we made a dry landing at the base of the steps we had to climb roughly 40 "stairs," if you can call them that, to reach the top of the cliff. Isla Genovesa is home to over 1 million sea birds so watch you step for feathers, eggs, and chicks. This was also the only island where we were to see the Red Footed Booby, the third and smallest of the three Booby species found in the Galapagos Islands. The Red Footed Boobies have red feet (duh!), bright blue beaks, and either white or brown bodies. While I like the Blue Footed Boobies better, I believe the Red Footed Boobies look a little more exotic looking. There were also many Nazca Boobies on this island as well and we saw many tending to their eggs, hours old hatchlings, and many chicks. We knew we were in trouble when our guide recommended that we bring our binoculars as we were going to look for the rare short-eared owl. I guess we never got that memo, so if you are going to this island I highly recommend bringing a set of binoculars otherwise you will be bored for a large part of this walk. While no one in our group spotted this rare owl we did see its feeding grounds and the many leftover carcasses of their snacks. As there are no predators on this island to hunt the owl, it is one of the only owls in the world that is active during the day.

Nazca Booby Chick, maybe a few hours old
After the 2.5 hour walk some of us geared up for a snorkel on the western side of the bay to look for elusive Hammerhead Sharks. This proved to be the most challenging snorkel of the trip as the was the side open to the wind fetch, and we had to swim in deep water yet close to the jagged coast line. This was also not the prettiest scenery but we were on a mission. We were told to stay close together and announce if we spotted the Hammerheads. We did see some of the larges rays yet, some as big as a Volkswagen. As we were swimming we could feel the sharks nearby. At one point our naturalist spotted a fish that they feed on and said they must be close if we can see these fish (see picture below). Eventually someone called for the Hammerheads. There were three of them; unfortunately, my mask was a little foggy and I was only able to catch a glimpse of the side, but still impressive. After another 15 minutes I got a burning sensation on my face and around my lips, it felt like a stinging rope but I didn't see anything. Apparently we had crossed path with some Man-O'Wars, and we all go stung. The stinging went away after a little while and the swelling in my lips went down after lunch, small price to pay if you ask me.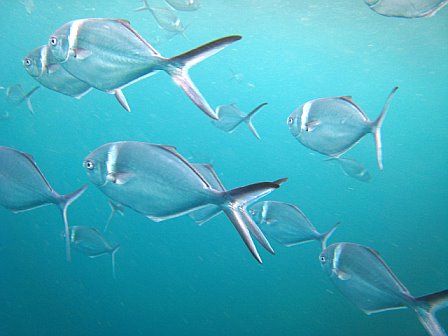 Not sure what kind of fish they are but they look cool, and if you see them there just may be a Hammerhead nearby.
After lunch we were able to take one of the sea kayaks out for a spin; as we had seen a lot of the bay on the panga, it was more for exercise than actually seeing anything. We were then taken to the sand beach on the north side of the bay. There was a hike to see some nesting grounds of the Red Footed Boobies, a chance to lay on the beach with a sea lion colony or go snorkeling again. I chose options 1-3. The snorkeling was OK, an easy swim over some rock reefs and sand bottom with colorful fish. The prize of this snorkel was seeing the spotted Eagle Ray, by far one of the coolest animals I saw the entire trip. The hike was OK, nothing we hadn't really already seen, but the scenery was pretty and we saw some marine iguanas bathing in the tide pools. The toughest part of the day was laying on the beach with the sea lion colony, there was a pup that was looking for its mother, and food and crying out on a regular basis. When the naturalist returned he sadly informed us the pup was sickly and was probably going to die soon. This is the reality of going to a place like the Galapagos; life and death is all around. Throughout the trip we saw a few dead animals including some iguanas, sea lions and birds. It can be a hard pill to swallow but that is the reality of these islands.

Spotted Eagle Ray
That evening we had another spectacular sunset and set off on a 16-hour sail to the next island. Genovesa Island offers quite a lot and I felt fortunate to make it to this remote island, (only next time I will bring binoculars).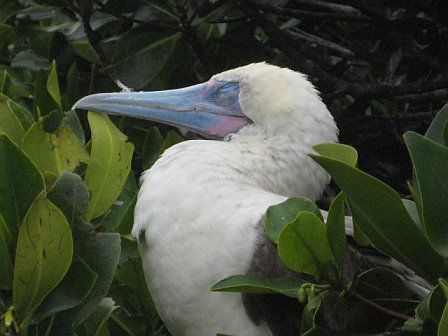 Notice the blue beak on the Red Footed Booby
Fernadina Island (or Narborough):

Flightless Cormorants, chilling.
Isla Fernadina is one of the younger islands in the Archipelago and home to the endemic Flightless Cormorant. Our morning started at 6:00AM when we were woken up for some sunrise whale-watching. The narrow body of water between Islas Fernadina and Isabela is the Bolivar Channel (this is South America, you had to know that was coming), which is home to many whales and dolphins, and is an ideal place for whale-watching. I saw a total of one fluke somewhat close to the boat and a lot of spouting off in the distance but no real breaches of whales. It was still a pretty neat way to wake up, but I'll get back to this later. With breakfast and whale watching out of the way we took that panga to Punta Espinosa where we set off on a 2.5 hour walk to see large marine iguanas (piles upon piles of them, all lying on top of one another for warmth), flightless cormorants, sea lions and a variety of birds. What separates Fernadina from other islands are the types of lava flow that you walk on (pahoehoe lava flow). Imagine fields of lava rock, crevasses, tide pools, and some cactus, with a background of volcanoes; throw in all the wild life and you have a truly unique setting unlike any place on Earth.

Marine Iguana Party, actually they are trying to warm themselves up.
The latter half of the walk was on over the pahoehoe lava flows; watch your step as there are steep crevasses and you don't want to fall through them. Imagine rolling water, that is now black and still, and that is what you are looking at.

A Pahoehoe Lava Flow
The highlight was coming upon a tide pool that had opened up to the sea and made for a remarkable setting. Right as we were soaking in the view a red sea turtle comes to rest a few feet from where we were sitting. I have never seen a turtle like this before, and this was the only turtle like this I saw during the trip.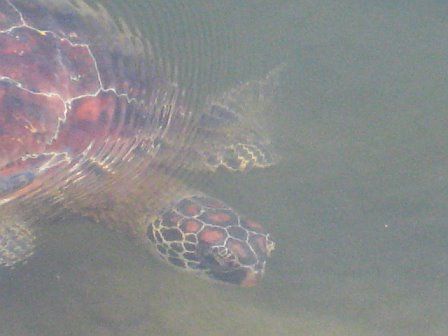 Red Sea Turtle saying what's up.
Tagus Cove on Isabela: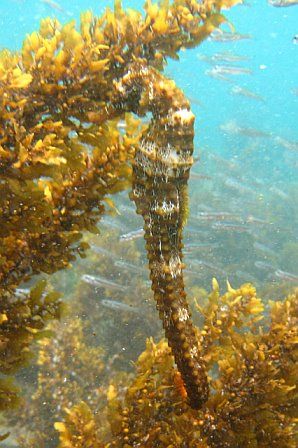 The elusive sea horse
Tagus Cove is technically on Isla Isabela but the snorkeling here was great, so that I wanted to give it its own section. This sits about a 10-15 minute boat ride from Punta Espinosa in the Bolivar Channel. The water in these parts, due to the currents, is the coldest in the Galapagos Islands and teaming with wildlife. Five of us went on this snorkel and everyone but I wore two wetsuits. I was fine though. The unique part of this snorkel was the pacific seahorses. These were about 8-15 feet deep and hiding in the seaweed at the bottom. To get down there you had to hold your breath and take a dive and hope you had enough air to spot, stare and snap a photo of them.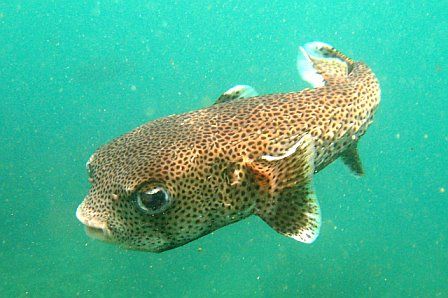 Puffer Fish
Aside from seahorses there were more puffer fish than I have ever seen in my life, and some large suckers. There were a few penguins, cormorants, and sea turtles. The rock formations were beautiful and teaming with wild life. This was one of the more fun snorkels and don't let the cold water scare you. Really it's only 3 degrees colder than other places in the Galapagos and the sights are so amazing you don't want to miss this. The highlight of this snorkel was trying to get my picture taken while swimming next to a sea turtle. One of the girls on the boat had underwater housing for her digital camera, a worthwhile investment: after five attempts with two different turtles we finally go the shot. If the sea turtles are eating, they won't pay any attention to you; however, if they are not, they will swim away from you so this was a bit of a challenge. 

The author annoying a sea turtle
Isabela:

View of Tagus Cove, and Darwin Lake
Isabela is the largest and most volcanically active of the Galapagos Islands. After the snorkel and lunch we had a dry landing at the base of Tagus Cove. On the walls you will see some graffiti that dates back a couple hundred years to pirates, as well as, old political messages. At first it looks like people have vandalized but when you realize how old it is, it adds to the mystique, though it's still ugly to look at. This hike was not to see any animals, but rather to climb atop the hill and take in the view of Tagus Cove and the surrounding scenery. The view of Darwin Lake and Tagus Cove is very impressive, and worth the climb alone, though I wish we had turned around at this point. I am not going to lie to you, the view was impressive, but it was hot as can be on this climb. We climbed to the top of Darwin Hill; by the time we got to the top we were sweating, had gone through our three pints of water and wanted nothing more than to march down. When we got to the panga I quickly changed into my board shorts and dove into the 63 degree water of Tagus Cove for the most refreshing swim I have ever had. To think, hours earlier people were in two wet suits in the same water and I was now in nothing but board shorts and loving every minute of it. Soon half of the passengers where in the water for a relaxing swim to cool off.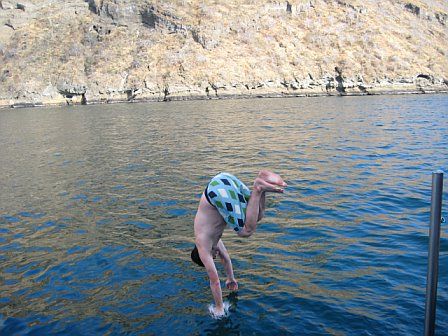 The author takes a refreshing dive
After drying off we made our way to the bar upstairs to enjoy the sunset and cocktails with our fellow passengers while we set sail. All of a sudden, Alex, our naturalist came running, he had spotted more whales that were close by. His enthusiasm had everyone excited as we had saw more whales than we seen all morning. After a little while we retreated back to the lounge for more drinks and sushi that was being offered. The sun was setting, the breeze was perfect, and we could still see the whales blowing through their spouts in the distance. It was a perfect evening. 

There could be a whale in this picture
North Seymour Island: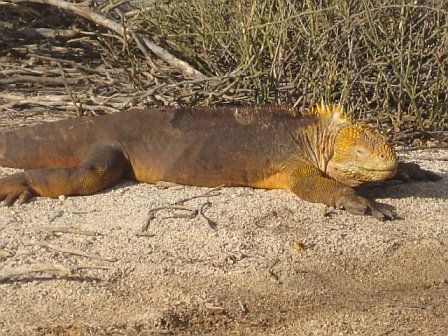 Land Iguana chilling on North Seymour Island
Located to north of Santa Cruz, this island is home to Land Iguanas, Blue Footed and Nazca Boobies, Great Frigatebirds, Lava Lizards, Sea Lions, and a host of other wildlife. The island itself used to be underwater, but due to some geological event, it is now uplifted almost like a table out of the water. This was one of the more interesting hikes; however, since it was day 7, we had seen almost everything already and it was almost time for something new. The difficult part of this morning was the early wake-up call. As half of the passengers were departing that day the plan was to give them an opportunity to have one last hike. The land iguanas on the island are unique and we had not seen those yet. These large iguanas, which have taken on the orange tint of the land, are a rare species. Do watch your step as they match the color of the trail, you don't want to step on one. As the iguanas don't have many defense mechanisms, they have been poached by introduced species such as dogs and hawks. The highlight of this hike was seeing the great male frigate birds puff out their red chest. The male frigatebirds have a red gular sac that they can inflate like a red balloon to attract females. Though it was not mating season for these birds, there were a few of the lonely soles looking for love who puffed out their sacs for us to see. It's quite an image, especially when they take to the sky with their chest puffed out. 

Great Male Frigatebird looking for love.
There is a very large colony of Sea Lions on North Seymour that were in playful mood, especially the pups. We had to change course a few times as they were in our way. Another time we looked over to see an adult female literally toss a pup several feet in the air for trying to feed off of her. As I mentioned earlier, the females will only feed their own pups; poor little guy just whimpered off, I hope its mother found him. The north side of the island is exposed to the swell coming from the north and there seemed to be a nice right breaking wave right off the coast. Watch out for boulders but you can score some good rides in the right conditions. All in all this is an interesting hike and a worthwhile morning. As it was our last land excursion, it was somewhat sad to leave the island but we had a few more activities left.


No you can't take this little guy home with you.
Baltra (South Seymour Island):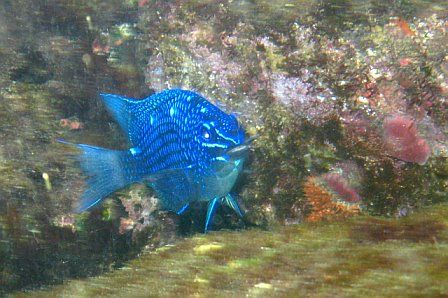 I don't know what kind of fish this is, but it sure is pretty.
This is the island where we spent the least amount of time but it is an important island so I thought I would say a few words about it. Baltra is just north of Santa Cruz by a few hundred yards and is home to the busiest airport in the Galapagos Islands. Baltra is a former air force base that was primarily used during World War II. And most visitors to the Galapagos Islands will arrive or depart through here. If you are doing a land based tour out of Puerto Ayora in Santa Cruz, this is where you will arrive. If you choose this route you will take a quick ferry from Baltra to Santa Cruz, then take a taxi or bus to Puerto Ayora. While the departing passengers on our boat were taken to the airport the rest of us were taken to a sand beach to sun bathe in the light rain. After 45 minutes we were picked up and taken to our last snorkel off the coast of Baltra. This was a deep water snorkel but if you hugged the coast line and went with the ebb and flow of the tide then you could stick to the rock formations and see a lot of fish. The fish were pretty, but we were looking for White Tip Reef Sharks, no luck. I did see some amazing yellow puffer fish and some young blue fish (the color not the name), and at one point I was followed by a little puffer for several minutes no matter what evasive tactic I pulled off.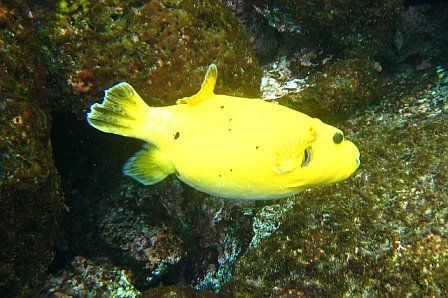 Yellow Puffer Fish
Black Turtle Cove on Santa Cruz: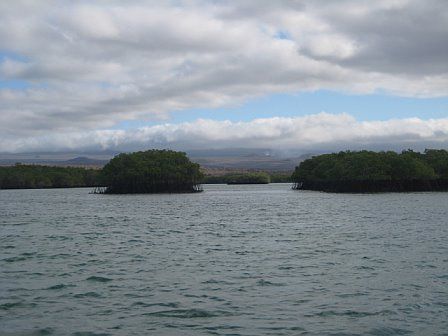 View inside of Black Turtle Cove
For our last excursion, and our third island of the day, we had a 2 hour panga ride through Black Turtle Cove which is on the north side of the island of Santa Cruz. Black Turtle Cove is mangrove forest inhabited by Sea Turtles, baby White Tip Reef Sharks, Spotted Eagle Rays, Blue Footed Boobies, and Pelicans. Having a skilled panga driver is key here, as there are many small areas to slip the panga though. However, having a panga drive that will not stop whistling Simon and Garfunkel tunes is downright annoying. At the mouth of the cove we came across a couple of sea turtles getting it on, or in scientific terms, mating. Apparently this lasts for hours and if the male fails to do his job there are other males waiting to take his place. Of the hundred or so eggs that the female eventually lays, only 1% ever reach adulthood. One of the highlights of this tour was seeing the pelicans and boobies constantly dive bomb for fish. Watch them circle above, tuck in their wings and dive bomb is really impressive. The other highlight was getting the areas where the sea turtles convene. They are slow yet graceful swimmers, and if you are quiet enough, you can hear them breathe with they come up for air. All in all this was a relaxing and beautiful ride. It also serves as a good opportunity for those not into snorkeling to get close to the rays, sharks and turtles they otherwise would miss.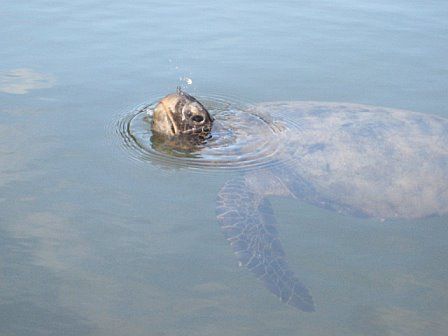 Sea Turtle in Black Turtle Cove
Wrap up:
This was a truly amazing trip and one that I won't soon forget, a perfect honeymoon. The Galapagos Islands are a once or twice in a lifetime trip and well worth the money. If you choose to go, do your research and find the best options that fit your needs and desires. We got very lucky, as the ship was beautiful and not crowded, and the other passengers were all fun-loving people with interesting backgrounds who made the trip more enjoyable. The staff onboard was top-notch and took care of everything. Stayed tuned for a follow-up trip report where I go into detail about Guayaquil and a little about the Costa Del Sol, including a bit about Ecuadorian cuisine. This was my longest and most challenging entry to date and couldn't have done it without the help of Jenn, who edited this document (and married me), Antonia for some of the underwater shots you see above, and James for his patience. The information above was acquired from Alex Cox, the naturalist on the boat, from handouts that we were given each night about the islands, his lectures, and general readings that I did in preparation for this trip. If anything is not accurate or wrong, that is solely my fault. The Galapagos Islands are a magical place and if you choose to go, do some research, bring lots of memory for your camera, and enjoy.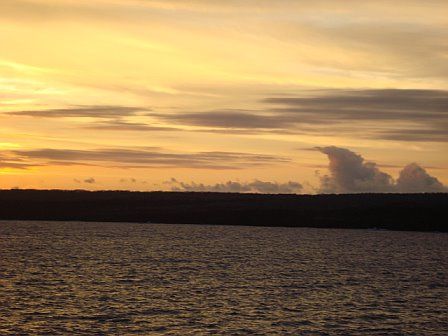 After mentioning sunsets I had to supply one