Guayaquil Ecuador: Guayaquil is the largest city in Ecuador but for many it is nothing more than a layover on their way to the Galapagos Islands. Before I arrived, I too thought this was the case, but came away impressed with the city and glad that I was able to spend a few days there. My wife and I went to the Galapagos Islands for our honeymoon and spent a total of four nights in Guayaquil with two more on the Ruta del Sol. Admittedly my expectations were low as I was eager to get to the Galapagos Islands. While many people prefer to go to Quito for a day or two rather than Guayaquil, I can firmly say that the decision to see Guayaquil a good one.

Cerro Santa Ana
As recently as 10 years ago, Guayaquil was seen as a dirty, dangerous city, that should be visited for as brief as possible. Through social programs, a progressive mayor, and the will of the people, Guayaquil has been transformed into a bustling city worth visiting if you are in Ecuador and on your way to the Galapagos Islands. With several restoration projects, American-style shopping malls, local crafts and a unique history, you can certainly find plenty to do in this city. Our visit was part of the package we got when booking our Galapagos cruise with Douglas Reyna from Global Tours, http://www.globaltour.com.ec/English/IndexEN.html. Douglas is a great travel agent, though he has his own style of work. Bear with him, he gets the job done and knows what he is doing. Global Tours is the official travel agency of American Express in Ecuador (as Douglas will be happy to tell you).
Pedro José: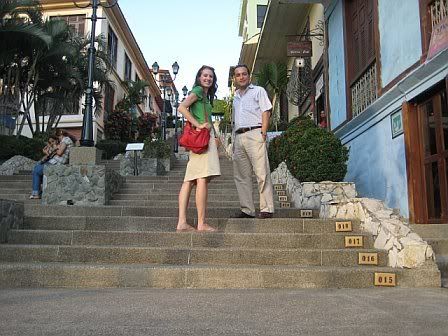 Pedro-Jose and Jenn
Usually I like to explore a city on my own, but we were given a guide who proved to be an excellent source of information and a real friend. His name was Pedro José Rubira. Pedro José is an energetic gourmet coffee executive who gives tours because he loves people and his home town. He is passionate about Guayaquil and his enthusiasm is infectious: seriously, he should be an ambassador for Guayaquil. He speaks great English so do not worry if you don't speak Spanish. He also went above and beyond to help us out. On the morning I was feeling sick, he drove us to a pharmacy. When we arrived back in Guayaquil from the Galapagos, he was waiting for use even though we were not scheduled to meet him. Lastly, he gave us an extra cell phone to use in case of emergency. He is well educated and is knowledgeable on all topics. I should also mention here that there are two top tier soccer teams in Guayaquil and Pedro José is a huge fan of Emelec, so you would be well served not to mention Barcelona in his presence. Barcelona however boasts the 5th largest stadium in South America.
Places to Stay:
Our tour included a stay at the Oro Verde Hotel, which is one of the nicer hotels in Guayaquil. The rooms were a little small but comfortable, and the chocolates on the pillows every night were top notch. The breakfast buffet that was included was quite robust with traditional Ecuadorian cuisine such as ceviches, and chicken and rice, as well as typical American breakfast fare. Service at the hotel was good, though when we asked for a restaurant recommendation it took 5 minutes (in Spanish) to tell them we did not want to have dinner at the hotel. The pool is nice though a little chilly, which is refreshing after sitting in the sun. Be careful when sun bathing: you are on the equator and the sun is powerful. The hotel is located in the business district next to the American consulate and behind a large recreation area with two Olympic sized swimming pools and diving facilities.
Dining: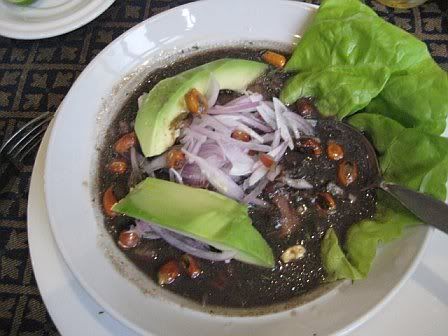 A traditional Ceviche
We did not get to experience too much dining out in Guayaquil as we were taken out to dinner once by Douglas, and exhausted the other two nights. We did have a nice lunch down the street from the Oro Verde at a fancier place called El Caracol Azul. Favored for a business lunch or fancy dinner, they have a great seafood selection and a wide array of ceviches. I got a very typical ceviche with squid ink, fish, and shrimp. It was well made and of high quality, but I have to admit, I am not a fan of squid ink. The fish dish I had with garlic was superb though.
On the Malecón 2000, which I will get to later, there are several food stands and kiosks serving traditional Ecuadorian fast food with other cuisines as well. I am not sure if sushi is really big in Guayaquil or Douglas just loves it, but we went to the sushi restaurant at the Sheraton Hotel Guayaquil. Since Guayaquil is very close to the coast, fresh fish is abundant and the quality of sushi at the reputable places is very high. The Sheraton's quality was in this catagory, however, I am not a fan of cream cheese in my sushi rolls and they couldn't lay off it. Hey fellas, next time lay off the cream cheese. Actually the Sheraton looked quite nice and if I were to go back to Guayaquil, I might opt to stay there.
Malecón 2000:

Malecón 2000
Malecón roughly translated means boardwalk in Spanish. Guayaquil sits on the Guayas rive, a large muddy water way with access to the Pacific Ocean. Sitting on the banks of the river, is Malecón Simón Bolivar Avenue (known as Malecón 2000, but this is South America so it had to be named after Bolivar) This was a major part of the revitalization of the city, which is basically a wide pedestrian street filled with trees with plenty of cafés, bars, eateries, monuments and a string of shops including a shopping mall. You can easily spend at least half a day or a whole night on the Malecón. This is also where you can board a pirate ship that will take you up and down the river. They do have dinner cruises too, but from what I am told, go on the boat for a drink and eat elsewhere. This is clearly a source of pride for the residents of Guayaquil to see their city turn around and have this great park for everyone to use.
Cerro Santa Ana:

The stairs at Cerro Santa Ana
Cerro Santa Ana, or St. Ann Hill, was by far my favorite part of Guayaquil. At the end of the Malecon on the river sits a hill and neighborhood called Barrio Las Peñas that used to be a slum filled with drug users, gangs, and crime. About 10 years ago, the government came up with a plan to clean up the hill and turn it around. They basically fixed up all the houses, painted the bright colors, added cobble stone streets and fancy stair cases, and kept all the residents living there. On the outside wall of each home is a picture of what the house used to look like before it was renovated. The stairs leading up to the top are numbered and go to 444 (though someone ripped off the last number plate). On top of the hill is a light house, if you have the energy to finish the climb the view is spectacular. The best part of the hill to me is the number of tiny bar along the route. After the climb I had to have a beer, I just had to. So we went to a little dive El Tara with a great view of the river and had a large Pilsner. 

View of the Guayas River from Cerro Santa Ana
Parque Bolivar AKA Iguana Park:

Notice all the Iguanas?
Better known as Iguana Park, Parque Bolivar sits directly in front of the Metropolitan Cathedral, and is about a city block. This is a well manicured park with grass, benches, walkways and about 1000 giant green iguanas. It's truly amazing how they just chill out in the park. They are very used to people and can be touched, though I never recommend touching wild animals (it's just not good for them). They will interact with crazy squirrels and eat off the vegetation of the park. As I understand it, this used to be the edge of the city and as they built the city, the poor iguanas had no where else to go so they have always stayed in the park. This is a neat diversion from usual tourist site and a few blocks from the historical center and the Malecón.
Historical Park:

A monkey at the park.
The historical park, or Parque Historico, is located about 10 minutes from the city center by car on the other side of the Guayas River. This is an interesting park, especially if you have kids with you as it is basically two parks in one. Situated in a natural mangrove with wooden walk ways, you feel like you are deep in the wildlife. The first part is like a zoo with species from all over the country, from the Andean region to the coastal regions. We saw exotic animals such as the white tail deer, monkeys, tiny leopard animals, caimans, and more. The second part of the park is the historical part where they either rebuilt or moved almost a city block worth of colonial era buildings from down town to recreate the scene. 

Glenn, please don't shoot me!
Leaving Guayaquil:
Do know that when leaving Guayaquil to go home you may encounter a situation that just seemed completely stupid at the time and I feel that I would be remiss if I did not bring this up. After going through all the security, all of the check points and waiting for our plane to boards my wife was called to the counter. After about 15 minutes, she hadn't returned and I could not find her. Then I was called. They would not tell me where my wife was (who had my passport), or where they were taking me, and our flight was boarding. So they took me (and my wife before me) on the flight deck to inspect the luggage, along with half the plane. Apparently they think this is how it should be done rather than going through the bags when you check in. So there was total confusion and very pissed off people (me and my wife). Apparently this is not too uncommon, so be prepared if they do something stupid like this. To make matters worse, when they brought us back up to the waiting area, they had us go through security again. We were escorted by armed guards the whole time.
All in all I have fond memories of Guayaquil and am happy it was part of my honeymoon. I felt like we got to experience a little bit of Ecuador before disappearing to the Galapagos Islands. I do recommend taking the time to see Guayaquil if you can; if you have a day or two and are visiting the Galapagos Islands, you really have no reason not to. Try seeing it before the Galapagos as once you've been there, it's hard to top. Hopefully you'll meet people as passionate about their home town as Pedro José and enjoy their hospitality. 

Security Guards at Guayaquil Airport.