Memphis Tennessee: Memphis, the home of BBQ, Blues and Beale St. sits on the banks of the mighty Mississippi river, on the western edge of the long state of Tennessee. I was there for only a weekend bachelor party so this won't be the most comprehensive article I have written, but should serve as a good introduction to what a weekend in Memphis is like. I was there during the world barbeque championships (Part of the Memphis in May)but did not make it. I will be back next year to do the championships properly, had I gone it would have just been for a brief time. Also we did not make it to Graceland. So now you are thinking, well then, what the hell did you do? Read on.
We stayed at the Holiday Inn near the University of Memphis which had nice suite style rooms, but it is far from the action. If you have the dough, stay at the Peabody, but there are plenty of hotels downtown, and I do recommend staying downtown, close to the action. Getting around Memphis is easy with taxis, and there seems to be plenty of parking downtown on weekends. I would not classify Memphis as a pretty town, but there is a good amount to do and a strong bbq and blues culture so you can't go wrong if you are into any of those.
Downtown Memphis is pretty compact and easily walk able once you are there. The Fedex Forum, where the Memphis Grizzlies play, and the University of Memphis basketball plays sits right off of Beale St. While on the other side of Beale St. is AutoZone Park, home of the Memphis Redbirds, the AAA affiliate of the St. Louis Cardinals. Then of course there is the world famous Beale St.
Beale St. (Pronounced, Bill St.):

Beale St on a Friday night.
Beale St. is the historical and tourist heart and soul of Memphis, though a long street, most people will refer to the 4-5 bock stretch loaded with bars, restaurants, tourist traps and copious amount of booze for sale. The police block off this area so it is only open to pedestrian traffic. I am not sure if this is all the time or just weekend nights, but it has a feel of a poor man's Bourbon St. with out the sex shops and strip clubs. You are permitted to drink on Beale St. but when you exit you go through security and they make you empty any drinks you are carrying. You an buy alcohol right on the street in "Big Ass" cups, yard plastic cups to tie around your neck and several other drinking vessels that scream "I am a tourist please take my money". One thing about Beale St. is that drinks are more expensive than average and after a certain time, no matter how crappy the bar is there is usually a $5 cover charge, maybe it's just weekends but it got very annoying.
The most famous joint on Beale St. is BB Kings blues bar, but like other famous things to do in Memphis, I did not go there. The first bar we went to was Rum Boogie Café (182 Beale St.), this is a larger place with many parts of the bar and at least two stages. Drinks were fairly expensive but it's a fun joint. They serve large beers, just like everyone else and had a good selection. Of the bars we went to my favorite was Silky O'Sullivan's (183 Beale St.). This place reminded me of Pat O'Brien's in New Orleans (actually I think they opened one up in Memphis). This is a large bar, with a huge out door patio. Dueling piano's inside, and another band outside. There are lots of tables to sit and drink with your friends, a dance floor and a whole lot of drunkenness. In my life I have never before seen a 24oz perfectly poured Guinness served in a plastic cup. Being a traditional Irish pub in Memphis it's only proper they serve "world famous ribs". I did not try them so I can't attest. However, they serve these huge drinks in these yellow Diver Buckets, that you can get and share with your friends. One no no at this joint or anywhere, don't call the bar tender a "deaf bitch" you will be asked to leave, as my friend EJ learned. One other bar I will briefly mention is Coyote Ugly, this place sucked and had lots of ugly girls. I don't like chains but we went anyways. I won't give you the address so you don't feel compelled to go, I did manage to sneak in without paying the cover charge.

This is why you never go to Coyote Ugly!
BBQ, now we are talking:

Pay dirt, ribs in Memphis!
BBQ is king in Memphis and as it is many places but Memphis really relishes in their BBQ history. Unlike Texas, they do not smoke their ribs as much as cook them with Char-coal. Unlike Kansas City (which used a tomato based sauce, or the Carolinas (which used a mustard or vinegar based sauce) they primarily dry rub their ribs. So who is best? That's personal preference. We did go to one of the most famous places in Memphis for ribs, Rendezvous, (52 S 2nd St). Though touristy, locals relish in this place too. One thing I noticed is that a lot of rib joints in Memphis sound as if they should be strip clubs. After waiting an hour (we did drink in the alley) we were seated. Service is good and efficient but had mixed feelings about the food. Well I'll start with the BBQ chicken nachos, also served with pork. They were awesome, I was surprised but it was the highlight of the meal. The ribs were dry, not just the rub, the problem is that my rack was so lean that there wasn't enough fat to add essential flavor. The rub was good and the sauces on the side made the juicy. The beans and slaw they came with were top notch, but the ribs just a little disappointing. I think I like smoked ribs better, but give this place a try.
Grease Burger: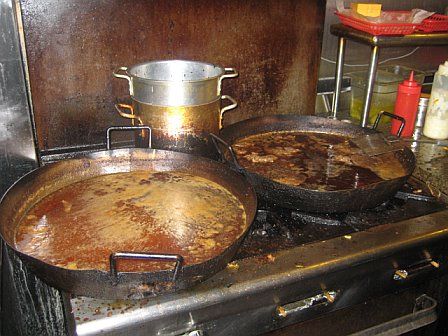 The Famous Dyers Grease, looks so bad, tastes so good!
Before I left for Memphis I got a great book called Hamburger America, by George Motz, with the accompanying DVD. To me this was more of a book about older America and long standing traditions than about the state by state guide to burgers, it's well done and very enjoyable. The Documentary is good as well, taking you to about 8 places of historical burger significance. If you like traveling, and meat, I strongly urge you to check this out.

The Double Double from Dyers, second of three I had in the weekend
Now on to the burgers, Dyers is a Memphis tradition since 1912, moving in the 90s to Beale St. though in tourist central this is more than a tourist joint, locals have been going here for years. So what's the draw? The grease burger of course. Since they have opened they have never changed their grease! The burgers are cooked in a huge skillet with the grease, which is strained every day but never changed. While this sounds gross, it produces a fantastic burger that is just slightly greasier than your standard fast food burger, but 100 times tastier. I recommend the double double, that's two patties and two slices of cheese. Have it as a snack or as a soaker. While I only had the burger, and some drinks, they serve booze. The wings and fries looked outstanding, but I didn't want to push my gut.
The Memphis Redbirds:
Memphis is home to a AAA baseball team called the Redbirds, affiliate of the St. Louis Cardinals. AutoZone Park is in right down town and a beautiful place to see a game. Tickets are reasonable, though beers are still at major league prices. The concourse serves traditional baseball food as well as BBQ Nachos. From anywhere on the concourse you can see the field so getting up is not a problem. With a friendly staff and a winning team, it is a great way to start the evening.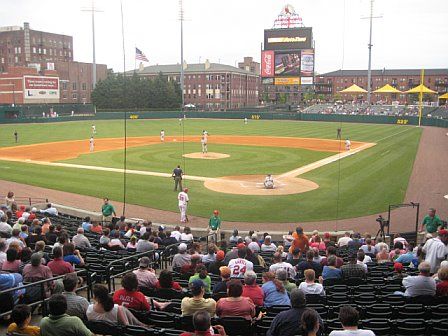 AutoZone Park, home of the Memphis Redbirds.
While Memphis was not on my first choice of places to go, I had a great time, with a great group of guys. There were 16 of us, while this was a bachelor party, Memphis proved to be a good spot for us. It's easy to get around, a good culture, and friendly vibes all the way around. While I didn't hit any of the famous stuff, like Graceland or the BBQ Championships, there was plenty to do and I will be back for the BBQ Championships next May so stay tuned for more.